• Sparkly User Guide
• The Four Cs
• Shapes
1. Round
2. Princess
3. Emerald
4. Cushion
5. Marquise
6. Radiant
7. Oval
8. Pear
9. Heart
10. Asscher
• Certification
• Settings
• Wedding Band Styles
• Metal Colors
Emerald
Emerald diamonds are another example of a timeless, classic look that we've been seeing a resurgence of lately. For this cut, we move away from the brilliant/sparkly look that many cuts feature (e.g. rounds and cushions), and instead move into a beautiful, icy look that only emerald cuts can provide.

(See Emerald Diamonds on JamesAllen.com)
Emeralds feature what is called a "step cut" which gives it what gives it the commonly referred to "hall of mirrors" effect. It's true—the emerald cut doesn't have those super sparkly facets and angles, but it appeals to most of us for many other reasons.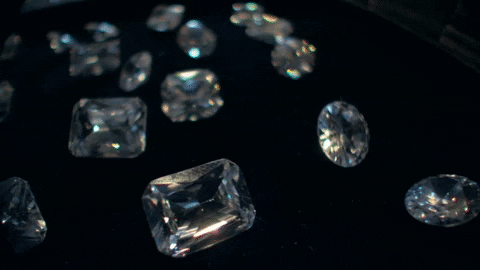 One of the benefits of the emerald cut is that it will often look bigger than the carat size suggests. This is because emeralds don't require the depth to be as deep as brilliant stones since the cutter doesn't need all that room to create a bunch of facets. This will work to your advantage because there ends up being less junk in the diamond's trunk, and more of the weight will be on top. If maximizing your carat size is one of your main goals, then you should take a serious look at emerald stones.
Now, there are some things to look out for. If you've read up on other shapes, you will see how the white light on sparkly/brilliant stones can allow you to dip down in color and clarity grades. Unfortunately, that's not the case when it comes to emerald stones.
With emeralds, since less white light is being reflected and refracted, we suggest going no lower than a G color stone, as anything less will start to show hints of yellow. When it comes to clarity on emeralds, we suggest not dropping below VS2 since you can essentially see right through them. (But always double check that the stone will be eye clean—if that's what you're going for.)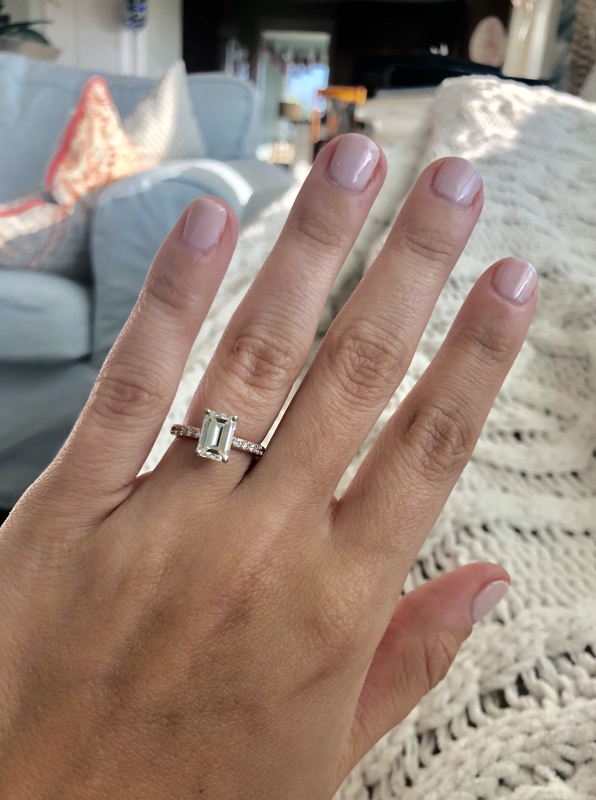 The length to width ratio are important to determine the type of "look" you'd like your emerald to have. Rectangular emeralds can range from 1.3-1.6, but most shoppers aim for 1.5 as this is the most "classic" rectangular look.

(See Emerald Diamonds on JamesAllen.com)
See How Emerald Ring Styles Look In Real Life:

(See Emerald Solitaire Ring Styles on JamesAllen.com)