Learn > Certification > GIA , IGI , AGS
• Sparkly User Guide
• The Four Cs
• Shapes
• Certification
• Settings
• Wedding Band Styles
• Metal Colors
Certification Types
A diamond certification is essentially a diamond's report card. It's where you'll find all the info you need on the 4C's, plus a lot of numbers and words that to most, don't matter as much. But these report cards (diamond certifications) differ, depending on what school (lab) your diamond comes from.

Here, we're breaking down the main ones you'll want to know: GIA, IGI and AGS.
GIA
Originally founded as a school to teach others how to evaluate stones, the GIA (Gemological Institute of America) has now become the most well-known diamond grading lab. Make sense, since it's also the oldest.
Because it's been around forever and has such a valued reputation, it's incredibly difficult for other evaluators and gemologists to grade and sell a diamond at the same price as one that's GIA-certified. Even though GIA is the most popular, many other labs and gemologists in the world use the exact same standards to grade and value diamonds.
Here's what a report from the GIA looks like.


IGI
While the IGI (International Gemological Institute) doesn't have the reputation that the GIA has, it's still a respected lab in terms of quality rankings and especially popular outside of the U.S. However, since the lab is less of a household name in parts of the world, and they have a reputation for grading diamonds with looser standards, the stones that come with an IGI report might not fetch as high an appraisal as a stone that's been reviewed by the GIA.
Here's what a report from the IGI looks like.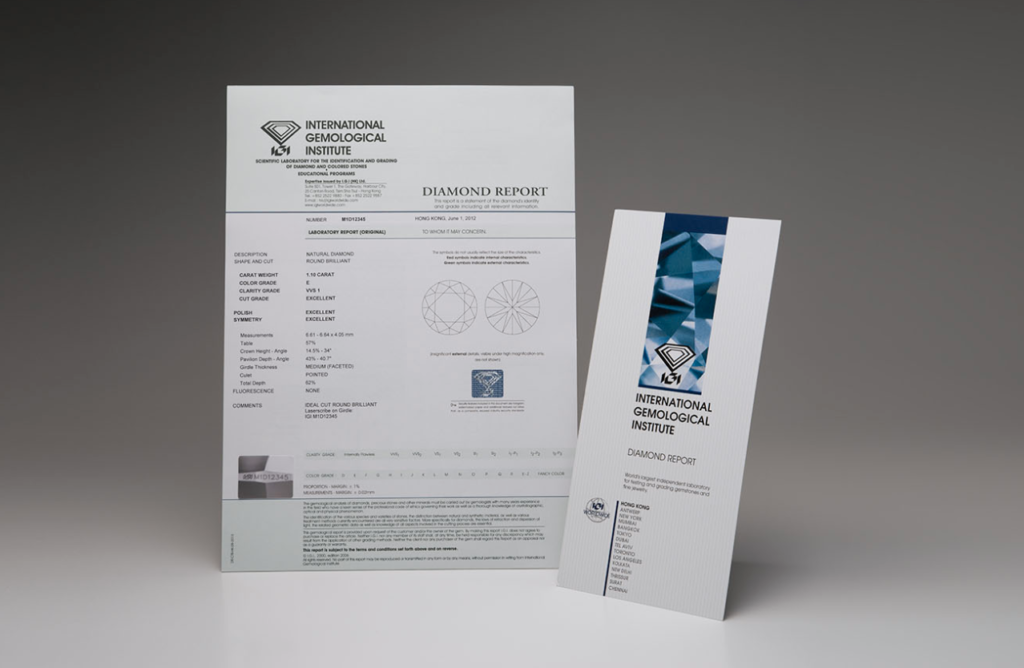 AGS
Another name in the game you should know is AGS (American Gem Society). Its claim to fame is being the first lab to produce diamond cut grades, and if you remember from before, cut is the #1 thing to look for.  AGS coined the "ideal cut" based on a 0-9 scale (0 being ideal) long before GIA came up with its version of cut grading.
Here's what a report from the AGS looks like.
The bottom line:
A GIA certified diamond is the most universally valued, even though many other labs have similar standards.
Still have questions? Email concierge@mysparkly.com to get help from a diamond expert.