Learn > The Four Cs > Cut
• Sparkly User Guide
• The Four Cs
1. Carat
2. Cut
3. Color
4. Clarity
• Shapes
• Certification
• Settings
• Wedding Band Styles
• Metal Colors
Cut
Like most aspiring diamond shoppers, you probably think of "cut" as the shape of the stone. Although wrong (kind of), you're not alone. Yes, it refers to the shape the diamond is cut (i.e. round, oval, square) however, when you say "cut" to jewelers, it actually refers to the QUALITY of how the diamond was cut. Why does this matter? Well, we if you want a diamond that's the best bang for your buck, then high-quality cut is the #1 thing to look for.  
So what exactly is diamond cut? Essentially, cut refers to the measurements of angles and proportions by diamond graders (GIA, AGS, etc.). For GIA certificates, cut is graded from poor to excellent. A diamond that is cut poorly won't reflect light in an ideal way, so it will definitely not be as brilliant (sparkly). An exceptionally cut diamond will reflect light more, which gives a diamond that show-stopping, dazzling look that's a must when showing off your rock.

In addition to the diamond being super blingy to the eye, having a well-cut diamond has other benefits too. A well-cut stone gives off a lot of white when light is reflected off of the diamond's facets. This white light can oftentimes overcompensate (in a good way) a stone that has a yellow tinge, so it actually looks a couple color grades higher.
Even more reason to opt for a high-quality cut is that the light reflections can help hide imperfections that otherwise may have been visible. So why does this matter? Getting a well-cut diamond means you can save money by sacrificing clarity and color.
While choosing an "excellent" cut means you'll no doubt score a beautiful stone, there are a few other things to pay attention to that can get you a little extra oomph. Not all excellent diamonds are created equal, so if you want to make sure you get something as close to perfect as possible, then keep these measurements for ROUND stones in your back pocket.
Ideally, look for rings with:
Table width percentage between 54%-60%
Depth percentage between 59%-63%
Crown angle between 33%-35%
Star length of 50%
Girdle of 2.5%-4%
Girdle thickness of thin to thick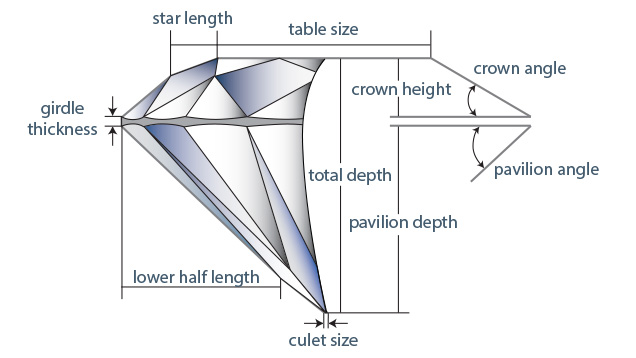 These proportions will help you get that "put that thing away, you're blinding me!" reaction we all so desperately want. Once you've landed your ideal cut, you can focus on the other Four Cs.